Prayer for Peacefulness
Free printable (prayer). This prayer is meant to develop wellness, peace and tranquility while keeping worries, fears and anxieties away. Particularly well suited for anyone desiring to enjoy a stress-free mind and a happy soul, this very pretty prayer is adorned with a gorgeous set of watercolor flowers, comprised of a lilac flower at the top and some daisies at the bottom.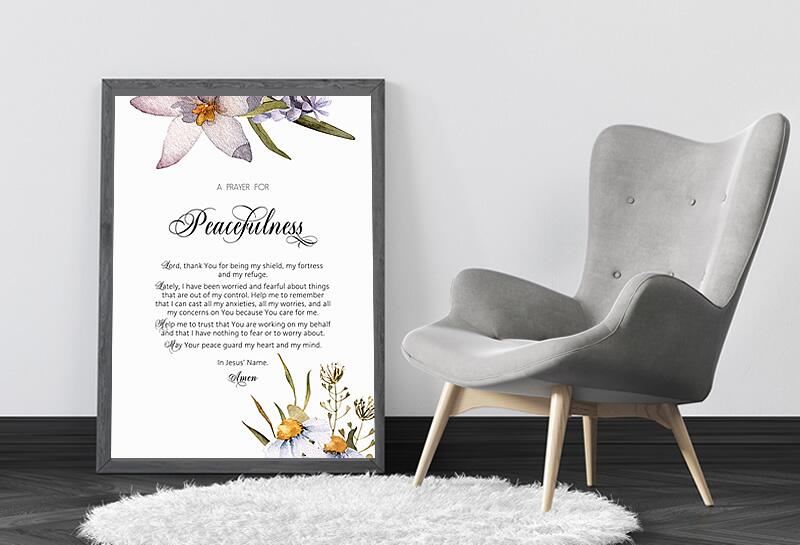 In a world where uncertainty, relationships issues, stressful situations at work or personal hardships can overwhelm the best of us, enjoying some peace and quiet can feel like luxury. Yet, a calm and serene mindset is utterly vital for any follower of Christ, and this prayer could help you do just that.
Whether for yourself or a loved one, simply print it out at home or online, insert it in a beautiful frame and let the power of prayer chase away fears and worries.
This beautiful prayer is 100% free and is an instant download (no need to register or to submit your email address).
It is available in PDF format, as a A4 size and US Letter size.
Right-click on the links below and select "Save Image As" to download your desired image as a PDF file.
Print it out at home or at your local printer and display it in a nice photo frame for daily inspiration.
Enjoy and be blessed!
A4 Size - Prayer for Peacefulness