WE HAVE UPDATED OUR REFUND POLICY ON NOVEMBER 6TH 2022
This policy sets out the returns policy for goods or services purchased through the online store operated by Christian Prints 3.16.
We stand by the quality of our digital products and are confident that you will be satisfied with your purchase.
That being said, if for any reason, you are not happy with your digital product (also called printables), we offer a 30-Day Money-Back Guarantee on all our items (Bundles, Prayers, Planners).
You should know that all products sold by our company are digital: our digital files are meant to be downloaded and printed out on your end (at home, online or at a local printer).
In other words, WE DO NOT SELL ANY PHYSICAL PRODUCTS such as printed prayers or printed images or framed documents of any kind.
We have made sure to inform our customers, both on our Home Page slider and on each product description, that ALL PRODUCTS SOLD ON CHRISTIANPRINTS316.COM ARE DIGITAL: nothing will be shipped.

Because we have made it clear that our products are digital (see our Checkout Page below) we will NOT accept refund requests from customers who were expecting to receive physical items.
We also do NOT accept refund requests AFTER 30 days of purchase.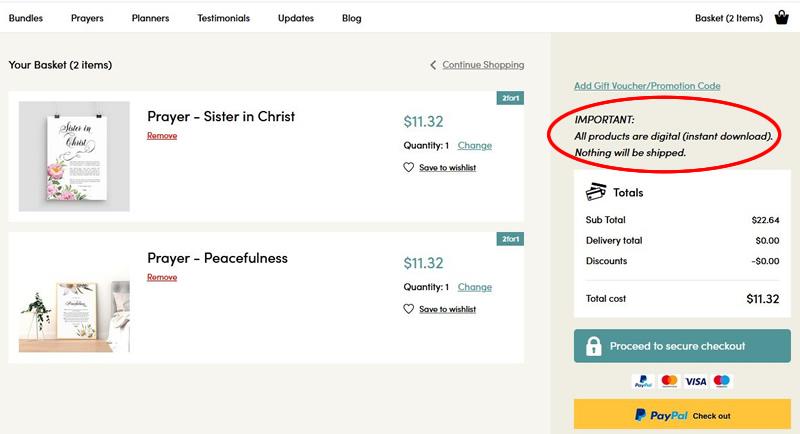 However, if you have purchased a digital item from us and are not satisfied with your printable, here are our conditions to be eligible for a refund.

1- REASON: please describe in writing what you disliked about our product or your reason for requesting a refund. This will allow us to get constructive feedback from our customers which in turn will help us address any problem related to our product development.

3- PRODUCT: please tell us which product you have purchased (for instance: Daily planner devotional in black and white) for us to correct any issue or error related to this particular product.

2- CONTACT DETAILS: please let us know your contact details (name, address and email address) to ensure that we know who is requesting a refund.

4 - SEND AN EMAIL: please do not contact us on Social Media, but send an email to admin(at)christianprints316(dot)com with the Subject Line "REFUND REQUEST". And we will make sure to get back to you as soon as we can.
While we have every confidence that our digital prints (printables) will exceed your expectations, if you have an issue with your product please contact us as you are protected by our 30-Day Money Back Guarantee.
If you are in any doubt regarding some items, please download a FREE printable instead (we offer a selection of free items such as planners and prayers) or kindly contact us before making the purchase.